The Basics of Business Entertaining and Building Friendships
The Basics of Business Entertaining
Entertaining customers has changed a great deal over the years. During the 50's and 60's, most business entertaining was done over lunch and olives were usually involved, along with gin or vodka and a bit of vermouth. Lunches lasted at least two and sometimes up to four hours. Times are different now.
First, let me state for the record that I have almost always been the vendor, and rarely the customer, so my perspective reflects the person who is paying and not receiving.
Two Primary Reasons
There are really two primary reasons to entertain for business: to reward or thank customers for their existing business, or to attract new business from prospective customers. Ultimately, the goal is not all that complicated. We want to make new friends or to strengthen existing friendships. I know that selling is often seen as a cold and calculating transaction, but that's not my style. The goal for me is create new friends and lasting friendships with my customers.
Meals Make for Great Entertaining
Here is my personal breakdown about business meals.
Breakfast -- Breakfasts are usually one or two person meetings. Much of the discussion is about business. It is often a much shorter meal so not a lot of personal "stuff" gets talked about. Breakfasts are ideal for new or potential customers. The meals are usually inexpensive, by comparison, and it's a good option when you know your customer is trying to juggle kids, sports, and business. The only time I get nervous is when someone orders cocktails at breakfast
Lunch -- Lunches are always a good option when there are lots of people and you still want to conduct business. There are a couple of ways to pull off a great business lunch. Set your meeting for 10:30 or 11:00 and gather your crowd for your presentation. When pizza arrives a few minutes before noon, everyone is very happy to sit and casually discuss your offerings from the presentation. Quite often, you can get involved in some good-natured office politics and good old teasing. You probably won't make a great deal of personal friends like this, but you will have a chance to understand the dynamics of the organization. It's also easy to pick the local sandwich shop and have everyone gather there. Again, it's easy to keep the cost down because there usually are not a lot of people ordering cocktails or beer at lunchtime.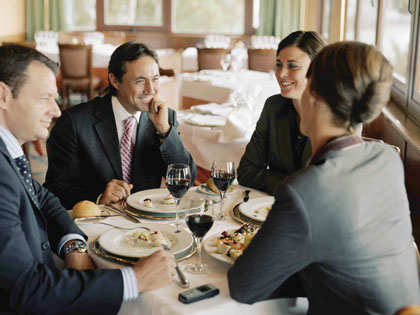 Drinks and appetizers for a late afternoon meeting is a great way to get some time away from the office and engage in some friendship building. The employees usually have a local "watering hole." We meet there, have a couple of drinks to unwind, and some chips and salsa to eat .
Just a quick word of caution: be careful about the drinks. Make sure that nobody gets out of control, or if they do, make sure there is somebody is taking care to get them home and not let them drive.
Dinner - Dinners are usually saved for more important clients. The "dinner" client is usually someone you have been doing business with a while and are reasonably close personal friends. It doesn't have to be 5-Star dining. What I prefer is a local favorite. Please don't suggest Outback, Olive Garden, Chili's or the other chains. I can go to those at home. Let's pick something different. The best burger, great Thai, seafood (in a seaport town), this is where I want to go and where I've found most clients want to go to as well. We can have a nice calm dinner. Many times by this point, business isn't even talked about. We talk kids, sports, hobbies. Yes this is going to be a bit more expensive if you go to a nice meal and have wine and cocktails with dinner, but this is about potential: either potential reached or new goals.
Other Activities
Beyond the standard "drinks and meals," other activities that I found to be rewarding include golf, fishing, concerts, and hunting trips. The rationale is really simple. Golf gives you four plus hours in a cart with your customer, uninterrupted. You learn a lot about a person during a round of golf. It has been a real eye opener on a couple of occasions. If I see you get frustrated and throw your clubs, I can understand why customer service people cringe whenever they hear your name. Although there is usually a bit of business conversation sprinkled in with golf, it is relationship building time.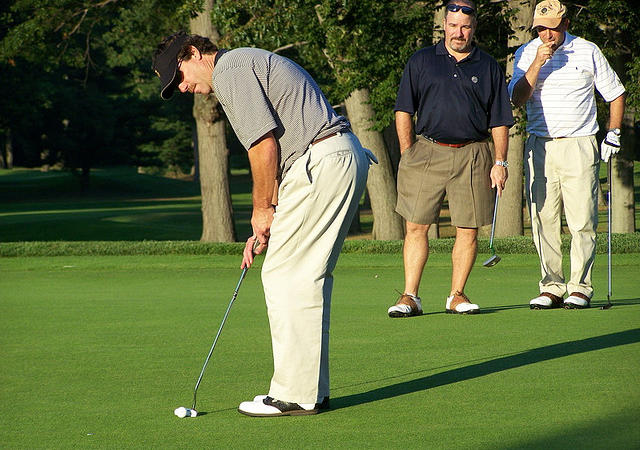 Concerts are great for building friendships. If you like the same performer, you have an "inside track" on the friendship of your customer. The downside to a concert is obvious. There are not as many opportunities to chat. Some of my best friends are "Jimmy Buffett customers." I have seen Jimmy Buffett in seven cities with seven different customers. There is a kinship, a fraternity that goes deeper than business could ever hope to. These folks are my friends.
Hunting and fishing are one way to thank customers in a big way. Quite often, they come from suburban areas where they just don't have access to these kind of things. So, if you are planning a hunting or fishing trip, make sure it is a blast. Where I live, there are no 5 -Star Hilton or Marriott vacation resorts. There is, however, one of the best trout and steelhead rivers in America. By the time you factor in the fishing and dining time, a two or three day trip can give you dozens hours of alone time with customers . . . especially if you fish winter steelhead. You are in a boat, in the middle of the river, in the dead of winter . . . there's no place to go!
Over the years, I've taken a couple of groups to South Dakota for pheasant hunting which has taken our friendships to a new level. I am pretty careful about guns and even more careful about who has a loaded weapon anywhere near me. So, like me, be smart about who you invite. The company has provided the guides, food and drink, and equipment, and the customers paid for their travel expenses. It worked out to be a wonderful time. Again, you have to be choosy about who goes because everyone has to be able to get along and enjoy themselves, but it is something they will remember for a many years.
Be creative with your customers. Everyone has something to offer. Make friends with your customers, and expect your sales to grow with you.
Contact Us
For more information about trade show or event marketing, give us a call or Contact Us. We welcome the opportunity to assist you with your next event.
Mel White
Classic Exhibits Inc.
503.652.2100