Inline Trade Show Display Tips
Smaller Trade Show Displays
On average, I see two to three thousand trade show displays every year, either in our shop or on the show floor. About 70% of those displays are in the 10 x 10 to 10 x 30 range. Multiply that by 15 years and that makes me either an expert on smaller exhibits . . . or just plain old.
Now, it's easy to be cavalier about smaller exhibits, in the same way some people are dismissive about small cars. I get that. A Corolla isn't a Lexus and a Cruze isn't a Cadillac. However, what I've learned over the years is that imagination, planning, and enthusiasm trumps size every time (yes, I'm still talking about trade show displays).
Let's explore this from a non-trade show angle. Most of us have lived in apartments. Decorating an apartment takes imagination since you can't make substantial changes -- no removing walls, adding shelves, or painting it lime green. You want the apartment to reflect your tastes and interests, and still be warm and welcoming to guests. We've all walked into apartment in a soulless apartment complex and been 'WOW'd' by the tenant's clever decorating, use of space, and personal touches. The tenant transformed nothing into something, often on a meager budget. I've found that it's rarely about nice furniture or paintings. It's about the details. They have a plan, they know themselves, and they are willing to put some effort into creating an attractive and livable space.
Details Matter
Smaller trade show displays are no different. The successful displays, or more importantly the successful exhibitors, approach it by having a plan and focusing on the details. They know there's more to a trade show than buying a pop-up or a small hybrid and then designing graphics. It's about achieving their trade show marketing goals.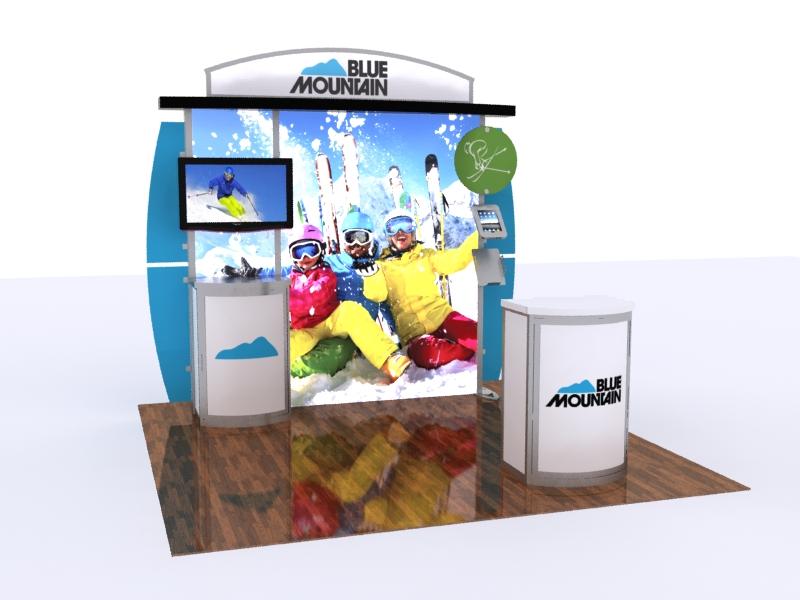 Now don't get me wrong. I see lots of beautiful smaller trade show displays with stunning graphics. We have eight years of exhibits photos on our website. What I rarely see are "stunning" trade show "programs" where the company does more than identify who they are and what they do. Outstanding exhibitors recognize that trade shows are theater. It's about attracting, entertaining, engaging, and informing. It's about leaving a lasting impression.
Let's say your company manufacturers plumbing supplies. You exhibit at the NAHB International Builders' Show in Las Vegas, typically in a 20 ft. inline. This is an important show for your company. You have a portable hybrid exhibit with tension fabric graphics, which show your products, logo, website address, and company tagline. In addition, your flooring has distinctive graphics, like water. You have a nice meeting area for attendees and a small but accessible showcase with your products.
Now, let's assume that what makes your company's products different is how quickly they connect. You could show it on a graphic (which you should). But, if the connection is truly "faster" then make it a game and offer prizes. Challenge attendees to connect it and time them with a stop watch. Or have them assemble a competitors while you assemble your connector. If they can beat you, they win some larger than life prize (which will never happen). You become a destination stop for exhibitors during the show.
The Star Power of Inlines
Too often, we don't see smaller exhibits as having the visibility and star power of islands. But they can. Effective pre-show marketing will drive attendees to your booth, but once they are on the show floor, it's all about the presentation, messaging, and engagement of your display and your team. Your display doesn't have to look like a prefab, soulless exhibit any more than a big apartment complex does. By infusing it with your company's personality, creativity, and planning and adding a dose of clever attendee interaction, it can be welcoming and personal.
It takes work . . . . but as a very smart boss of mine once said, "That's a good thing!"
Contact Us
For more information about trade show or event marketing, give us a call or Contact Us. We welcome the opportunity to assist you with your next event.
Mel White
Classic Exhibits Inc.
503.652.2100