Trade Show Graphics that Sparkle and Shine
Stunning Trade Show Graphics

Visibility and distinctiveness are the most important goals
Don't skimp on graphic design or your booth graphics
The color scheme you select for your trade show booth is critical
Work with a graphic designer who is familiar with trade shows and events

Visibility and distinctiveness are the most important goals when designing graphics for your booth. Your graphics should be easy for customers to see when standing in the aisle or from a distance. Sandy Flom, CEO of Extraordinary Show Productions, recently told The Mississippi Business Journal that "Powerful graphics are easily seen from a distance. Large photographs of people using or benefiting from your product or service send the strongest message."
Make Your Graphics Distinctive
You want your graphics to be distinctive. Try to state your message in ten words or less. Use simple, everyday terms, and try to convey how your company's products or services can help prospective customers. Try to avoid too much detail. One of the biggest mistakes trade show novices make is cluttering their exhibit with too much text. Simplicity is the key. Attendees are bombarded with massive amounts of information at trade shows. They are unlikely to take the time to read a jargon heavy message or want to be bogged down with too many specifications. Save that information for your literature. That way the customer can examine it at their leisure and refer to it as needed.
Don't Skimp on Graphic Design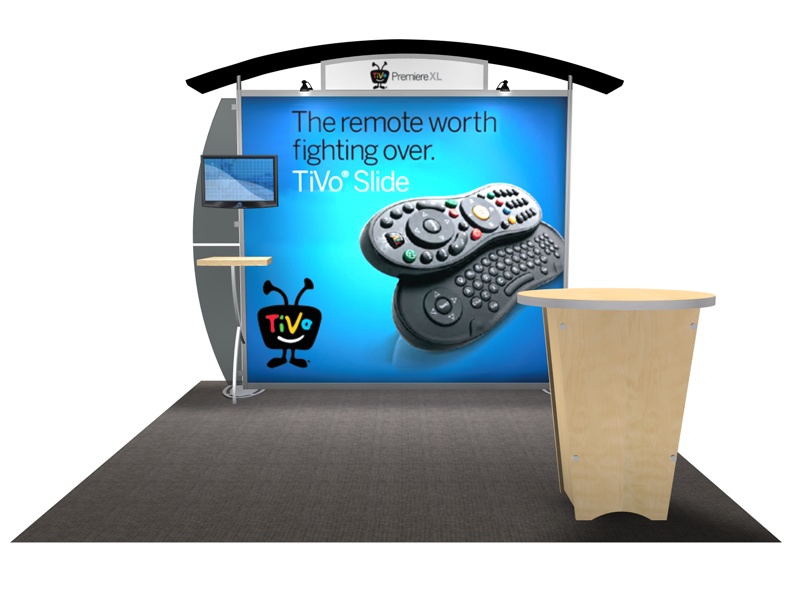 If you remember anything, remember this . . . Don't skimp on graphic design and your booth graphics. Stunning graphics will grab people's attention. A rich, colorful image will make people stop and take notice. There are few limitations anymore on either graphic sizes or graphic substrates. At any trade show, you will see graphics printed on solid surfaces such as panels and laminates and on large format tension fabric displays. Some are meant to be portable; others must ship in crates. Be sure to coordinate your display graphics with your literature for a cohesive presentation.
The color scheme you select for your trade show booth is critical. Color affects our perceptions of a space, so when planning your booth, choose your colors carefully. The graphic designer can help determine the most appropriate color scheme for your booth based on your overall corporate colors, your marketing goals, and your color preferences. Be sure to work with a graphic designer who is familiar with trade shows and events. Translating traditional advertising from magazines and brochures into 3D structures requires experience and expertise. In addition to printing graphics on a larger scale, the printing mediums are often very different.
Be sure to tell your graphic designer if the graphics are intended for just one show or if you plan to use them for multiple shows or for several years. This may influence the marketing message and will definitely influence how the graphics are printed and on what substrate. Regardless of the substrate, you will want to treat your graphics carefully. Nothing is more frustrating that having beautiful graphics at your first show and then discovering at your next show that the graphics have been damaging because of careless packing. Graphics are expensive and should be treated with kid gloves.
Contact Us
For more information about trade show or event marketing, give us a call or Contact Us. We welcome the opportunity to assist you with your next show.
Mel White
Classic Exhibits Inc.
503.652.2100