30 Trade Show Exhibit Conspiracies
The 30 Things Conspiring to Destroy Your Beautiful Trade Show Exhibit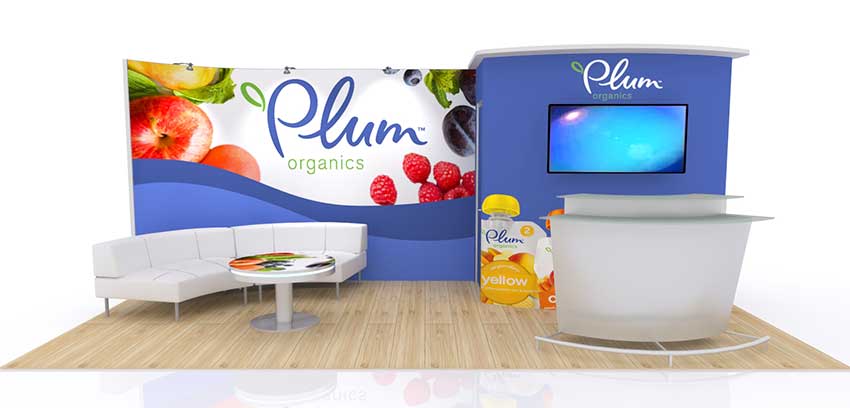 You've planned for months. It may even be your biggest company event of the year. You have worked with your trusted vendor partners, as well as your internal staff, to ensure that your company exhibit has been designed and built to perfectly fit your company's needs and objectives. It's go time and you think you're in control.
But what you didn't know is that the world has conspired to destroy the beautiful thing you built, the minute it leaves your dock.
The Best Laid Plans of Mice and Men
Here's an incomplete list of 30 Things that can derail the installation and return shipping at your next trade show:
Your inbound freight arrives late to show.
Dealing with lost or misplaced crates/ cases.
There is no electrical laid in the booth.
Electrical was not ordered for the booth.
Too little electrical was ordered for the booth.
No carpet order on file at desk.
No carpet order was submitted to the General Contractor by you or your display house.
Your shipment arrives to your booth space, and there is damage.
You've shipped your 55 in. HDTV monitors cross country in their original cardboard boxes.
There are critical parts are missing from your exhibit structure.
The wrong graphics were sent to the show; the proper graphics will arrive tomorrow.
The last exhibit repack was unbelievably sloppy (or got incredibly bounced around during shipping to the show).
Your exhibit system structure is a brand new booth, shipping directly from the manufacturer.
No instructions or CADs are in the cases with the display.
Incorrect booth orientation was provided to the team.
There was no booth orientation provided to the company.
There is a hostile GC and/or labor force.
There are trust and communication issues between exhibitor personnel and their trade show coordinator (or display house sales rep, or their boss, etc.).
Exhibitor personnel badmouths their exhibit house repeatedly.
Exhibitor wants to "reconfigure" the booth during set-up.
The AV vendor you've selected doesn't "hang" stuff (they only "deliver" stuff).
The exhibitor has decided during install that you want to add 2 more ??? (you name it).
You (the Exhibitor) have neglected to mention anything about the Internet service you require.
The exhibit empties are delivered four aisles over from your booth space.
One of your wood crates never makes it back from storage for the dismantle/repack.
No pre-printed outbound labels were provided for your 51 piece shipment.
No outbound freight carrier information of any kind has been provided to your I&D team.
The extra "additional shipment" you put together at end of show(literature, unused giveaways, etc.) has not been communicated to your exhibit house or I&D contact.
Tired of waiting for your empty cases to return, you decide to: a) walk back on the docks and look for your crates, and b) bribe the closest forklift driver to get them for you.
The General Contractor forces your freight. Ouch!!!!!
Written by Chris Griffin. Chris is a 25-year trade show executive who specialized in exhibition logistics and U.S. labor relations. He is the President of Trade Show Supply and TS CREW, a company that provides installation & dismantle labor service and exhibit rental solutions.
Contact Us
For more information about trade show or event marketing, give us a call or Contact Us. We welcome the opportunity to assist you with your next show.
Mel White
Classic Exhibits Inc.
503.652.2100